Season 4: The Five Adaptive Muscles | Episode 1
Leading Organizational Grief
Overview
One big takeaway about the Five Muscles (Grieving Well, Discerning Purpose, Walking Alongside, Distributing Power, Expanding Imagination) is that they are all connected. Shannon Hopkins, co-founder and lead cultivator of RootedGood, profoundly understands that grieving well makes discerning purpose and expanding imagination possible. Shannon shares the origin story of her organization RootedGood. She and her colleagues discerned that Matryoshka Haus, the 15-year-old organization she founded and that was by many accounts thriving, could no longer continue in the same way. They decided to let go of what was so that they could step into the new dreams God had for them and RootedGood and two other organizations were born. This conversation with Shannon is rich with insight about grieving as a leader, leading an organization through loss, and living and leading out of the reality and great gift of the Christian tradition that there is life, death, and life after death.
Meet Our Guest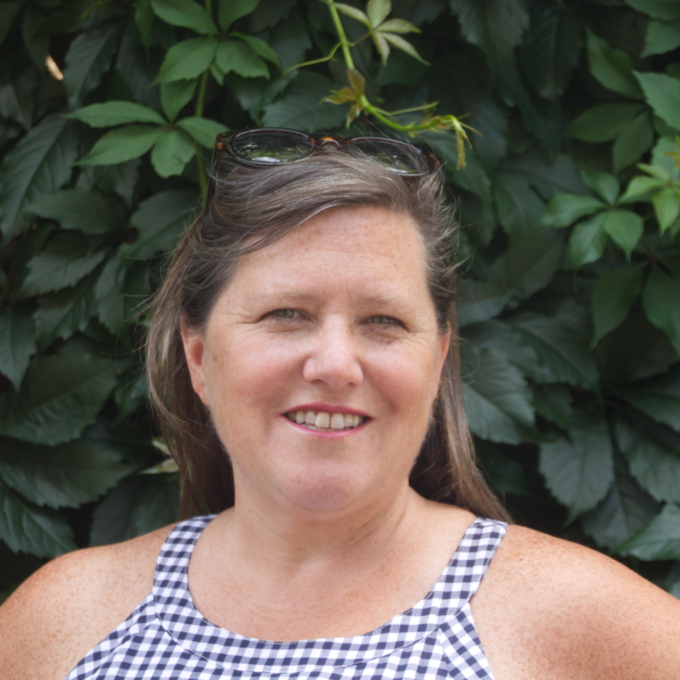 Shannon Hopkins
Shannon Hopkins is an extreme networker and social entrepreneur living in East London. Her passion for community and individual transformation has launched or influenced the formation of fifteen campaigns, projects, and organizations — and trained over 200 social entrepreneurs. In 2008, Shannon was awarded the Women of the UN and UK's Annual Woman of Peace Award for The Truth isn't Sexy, a campaign that addressed the demand side of human trafficking.

A Texas native, in 2004 Shannon moved to London and founded Matryoshka Haus. Part incubator, part community, part training organization, Matryoshka Haus was born of a fundamental belief that a different world is possible. Shannon is excited to see how over a decade's worth of work, passion, and learning will live on and take new shape in the US through RootedGood. Shannon's mission-centered focus on bridging the gap between partners, funders, and cause-related champions in a post-Christian secular world is rooted in one powerful concept: inspiration. In her words, "I think we undervalue what inspires us and moves us to act… but once someone is inspired it can really set a whole host of things in motion."
If you enjoy the podcast, would you please consider leaving a short review on Apple Podcasts / iTunes?
Explore RootedGood's website to find tools and games to help you implement design thinking, produce creative ideas, launch new ventures, generate revenue consistent with mission, measure your impact, and more. Membership in RootedGood's Mycelium Network allows access to all of the content and a dynamic network of social impact leaders.
How to Lead When Things Fall Apart
Shannon Hopkins names and explains the five stages of a healthy pivot when the structures you have built no longer work. This is an important read and a helpful conversation starter for leadership teams as we continue to navigate disruption, change, and the feelings of loss that come when things do not go as we had hoped and planned. (5 min read)
Read Lisa Greenwood's monograph about God's Mixed Ecology: The Changing Spiritual Landscape here.
New Feature: Transcripts for this Season's Episodes
We will have transcripts for each of our episodes this season. Download this week's transcript. We hope these additional resources will help you share these conversations with your friends, colleagues, and leadership teams to spark the spirit within you, your organization, and "ignite imagination!"
Music
"God Has Work for Us To Do" music and lyrics by Mark Miller. Visit Mark's website at markamillermusic.com or find him on YouTube at https://www.youtube.com/c/markismusic67
Leadership Ministry
This podcast is brought to you by the Leadership Ministry team at TMF and Wesleyan Investive. Leadership Ministry connects diverse, high-capacity leaders in conversations and environments that create a network of courage, learning, and innovation in order to help the church lean into its God-appointed mission. Subscribe to our emails.
Next Steps
Subscribe
Subscribe for inspiration and insights for your life and ministry. We send emails about each episode and include additional related resources related to the episode's topic.
Leave a Review
If you enjoy the podcast, please consider leaving a short review? It increases our rankings and helps us to reach more people all over the world.
More From Season 4: The Five Adaptive Muscles